As you may know, Swedish furniture retailer Ikea does not only sell furniture. In fact, Ikea in Singapore is also synonymous with food and meatballs, thanks to its IKEA Restaurant located within its sprawling outlet at Alexandra. The restaurant suffered a setback a few years back when diners complained about the deteriorating quality of its chicken wings. We had to agree that the chicken wings went from good to worse to more worse. However, everyone needs a second chance, even Ikea.
One recent lazy Sunday morning, we decided to do a comprehensive review to see if IKEA Restaurant still had what it took.We were cautiously optimistic as we had visited the restaurant a couple of times after their chicken wings were refreshed and they still felt lacking. The restaurant's decor was simple and functional and large tall windows allow the light to shine through for bring dining environment.
The food selection is quite extensive and frequently refreshed. Staples would of course include the meatballs, fried chicken wings and pasta. You will be surprised that they serve organic food now too eg organic pasta with tomato sauce. Seating is casual, simple chope your seats and queue to collect your food and make payment at the cashier before collecting your coffee (if you have ordered) and cutlery. You can concoct your tea with the lipton tea bags and hot water. Coffee is dispensed from a machine and actually tasted slightly acidic and is quite good and strong.
On this particular occasion, we were a little kiasu and ordered more than usual for just two pax. It was the first time that I had to use a trolley to house the food.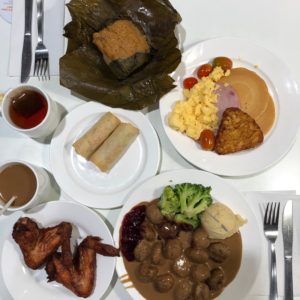 Let the review begin! Swedish meatballs (16pcs, $10) is a dish that we will never miss. The dish is served with mash potato and broccoli. The meatballs are a mixture of beef and pork. The meatballs are deep fried and slightly brown on the outside, while tender and soft on the inside. They tasted very nice. Pair the meatballs with the mustard gravy and lingonberry jam for a unique combination. Lingonberries are wild berries that are commonly grown in Sweden. The gravy was thick and nice.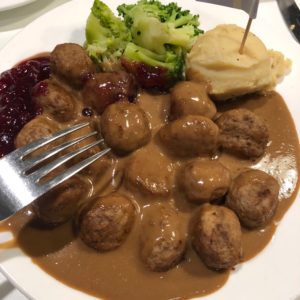 We also ordered the pancake with breakfast ham ($5). It came with some cherry tomatoes and scrambled eggs. The pancake was fluffy, soft and slightly sweet with a tinge of vanilla taste. Do not be too generous with maple syrup unless you really like it to be very sweet. The scrambled eggs were lightly salted and a little dry while there was nothing special about the ham.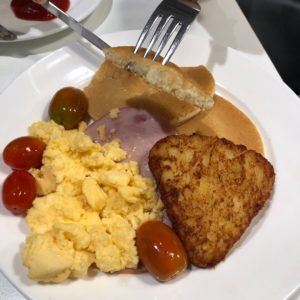 Lo mai gai ($1.50) is a local glutinous rice dish with chicken and mushroom. There were some mushrooms in IKEA's lo mai gai but not many. The lo mai gai was steamed-wrapped in lotus leaves which infused a fragrance of lotus leaves tto the rice. The rice was not oily which was a pleasant surprise.
The spring rolls ($1.50) were filled with cabbage and carrots, a dish suitable for vegetarians. They were deep fried and crispy on the outside while the vegetables stayed moist. You could taste the sweetness of the vegetables and their crunchiness when you chew on them.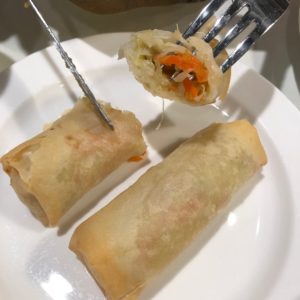 Chicken wings ($3 for 2pcs) were clearly the most popular dish, a ubiquitous sight on almost every table. The wings were deep fried to golden brown. The skin was slightly crispy at the wing edges of the wings.  The meat was well marinated, moist and flavoury. The wings were not too oily too.
We had a very positive dining experience and the food quality certainly surprise on the upside. We hope the food quality can be maintained.