Sydney Fish Market has a long history. It was established in 1945 by the state government and later privatised in 1964. It is the world's third largest fish market.
It houses many seafood outlets selling fresh seafood and cooked ones. It is a paradise for seafood lovers. Unfortunately, my wife and I are not seafood lovers. However, we made a trip there hoping to get some great fish and chips. We hopped onto the Sydney Light Rail from the Haymarket stop and alighted at the Fish Market stop. The Fish Market was about a 5-min walk away.
The fish market was bustling with many tourists. There were stores selling fresh and cooked seafood as well as other produce and items like vegetables, fruits, deli and wine.
There were at least more than four stalls selling fish and chips. We chose one with indoor seating which had the shortest queue as we did not wish to wait for seats. The fish served was warm and fresh except that it was too salty for our liking. We omitted the chips as we were still full from our breakfast.
If you want a decidedly seafood dining experience you should dine in the al fresco seating areas,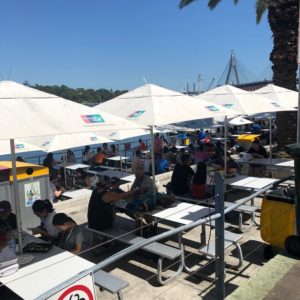 The Sydney Fish Market is an interesting destination which seafood lovers should drop by.
Address
Sydney Fish Market
Bank St Pyrmont (Fish Market Stop on Metro Light Rail), Blackwattle Bay N.S.W. 2009, Sydney Australia
Tel: 02 9004 1100
Opening hours
7am – 4pm