This is a review of my first Covid-19 PCR test experience and the clinics I went to. Developed a sore throat over the weekend (the catalyst must have been eating McDonald's criss-cut fries by myself for two days in a row) and when I started coughing, I knew the proper thing is to head down to a clinic and get swabbed.
I called up The iClinic which is part on my company's panel of doctors. iClinic advised that their doctor is not around but I can visit a doctor at a neighboring clinic Dr Care and then head over to iClinic for the swab test. I made an appointment with Dr Care and headed down.
At Dr Care, I was given a declaration form. The gravity of the situation struck when I have to respond yes (for the first time in the Covid era) that I have respiratory symptoms. I met a young male doctor who briefed me on the subsequent steps and answered my queries on how I should be staying at home till the PCR result is negative. Dr Care is actually not on my company's panel but they said as it was a respiratory-related consultation, I just have to pay $10 and the government would take care of the rest. Thank you government. Oh, I paid with a credit card that allowed me to earn more points, potentially earning four miles per dollar. With $10, I earned 40 miles which will allow you to to fly to Pulau Ubin perhaps.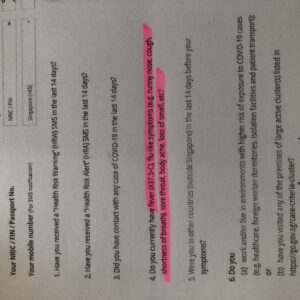 A nurse from Dr Care escorted me to iClinic which was just round the corner. I was again required to do the health declaration, electronically this time. A male nurse came out and asked me to go the the blue screen area. Now I know what those blue screens are for. I told him I have never done any ART or PCR tests before and that I was very afraid. He spoke reassuring to me and we managed to crack a few jokes. Maybe the jokes won't be funny to him anymore but they were important to help calm my nerves down.
So the ART test went first. It was ok, though I felt the left nostril insertion was not as deep as the right. He asked if I want to have another go, and I politely declined. Before the PCR test, I co-ordinated with him, I said I need to hold my breath after he give me a signal. It went ok for the PCR test too, the swab definitely went in deeper and you can feel something strange inside your face. I did not teared and I hope all PCR tests in future would be of this level of discomfort of less. There are many horror stories floating around of PCR tests as you might have heard.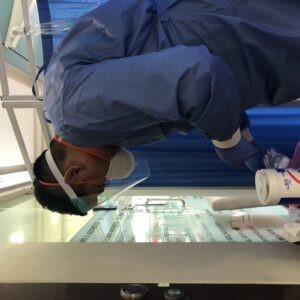 I was told to wait for the full result of my ART test. After 2mins, I was shown that there was one line (Clear) for the ART test but sometimes a second line pops up in the subsequent minutes. Before 30mins, I received an SMS from MOH which directed me to a link for my ART test result: negative (phew). After 30 mins, I was shown by the nurse that the ART result was good and allowed to take a picture to reassure my loved ones which include my wife and my colleagues that I work closely with. While waiting outside the clinic, I could see the world pass by, going about the usual activities and wearing a masks. How has Covid changed our lives. I also felt like an exhibit as I waited outside the clinic, thankfully I did not receive any weird stares from those who passed by.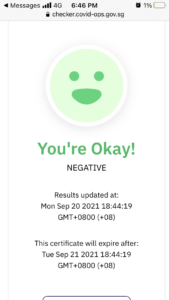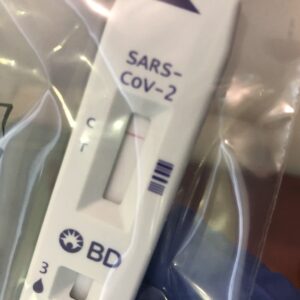 I went home, took the medicine and rested. I have to keep reminding myself that I cannot step out of my home. The next morning I received an sms from Dr Care that my result was negative. I logged into HealthHub and it showed that my ART and PCR test was negative. In fact the PCR test was concluded at about 830pm the day before. Thank you to all our frontline and back-end healthcare workers for your hard work.
All in all, the experience was not as fearful as expected, and friendly doctors and nurses enhanced the experience. Keep safe all. And don't eat too much criss-cut fries.