Chapter 55 is an Italian bistro located at the corner of Tiong Bahru Road and Tiong Poh Road. You can't miss the bistro as it's facing the busy Tiong Bahrun Road. We passed by the bistro frequently on our way home and it was usually crowded. We went there recently with our friends. We also brought our dog along as it's a pet friendly establishment.
The bistro was decked in black and brown colour theme with simple tables and chairs. Indoor and outdoor seating were available. Ceiling fans provided ventilation for the outdoor seating area but second-hand cigarette smoke would waft in quite frequently from smokers smoking nearby along the walkway.
Each of us ordered a separate main course. My wife and I ordered Carbonara Spaghetti ($18) and Margherita Pizza ($16) respectively to share. Our friends ordered Duroc Pork Chop ($26) and Squid Ink Linguine ($27). The service was as lukewarm as it can get, and it was difficult to catch their attention. The food arrived pretty soon though. You could help yourself to iced water to cut costs.
Let's review the food. The portions were all sizeable for one person, especially the pizza (12-inch) which can almost fill two persons actually. The carbonara spagehtti had a generous serving of bacon which overpowered the sauce and caused it to be overly salty and overpowered. Although white wine was used for the sauce, there was hardly any taste or smell. The thin crust pizza Margherita looked average when it arrived and tasted worse, arguably the worst Margherita pizza we have ever tried. It tasted mainly of tomatoes as the serving of mozzarella cheese was too little. It was also very salty, and I had to eat the crust to make it more palatable. It tasted like salted tomato pizza.
What about our friends' food? The squid ink linguine was served with prawns, clams, scallop, squid and crayfish. The whole plate was a sea of black, it's squid ink after all. We could see our friend's lips and teeth stained with black ink as she tried the dish. The linguine tasted alright although the seafood was not fresh. Our friend commented that you should never be eating squid linguine on dates. No prizes for guessing why.
The Duroc pork chop was pan-fried and drizzled with balsamic caramel sauce. It was also served with mash potato and corn cob. The pork chop was dry and thick and was tough to chew on.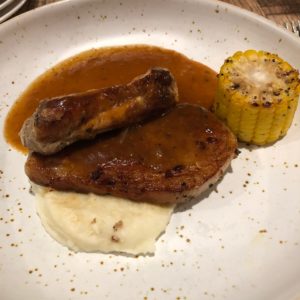 Feeling dissatisfied, we turned our expectations to the desserts. We have heard great reviews about their waffles and we ordered two signature Chapter 55 Gelato Cafes (double scoop of ice cream, $19.50 each). My wife and I opted for the dark chocolate and rocher gelatos while our friends selected yuzu and strawberry cheesecake.
When our dessert was served, the presentation was lovely. The cocoa powder depicted the bistro's logo. However, the taste fell far short of our expectations or the presentation. The waffle was not warm, it was soft and slightly fluffy. We prefer it to be slightly crispy at the edges, warm, moist and soft inside. The dark chocolate gelato was rich and the rocher gelato was a little nutty. One of our friends' gelato was served inaccurately. Instead of strawberry cheesecake, the strawberry flavour was served. When we notified a staff, she said that she would exchange the wrong gelato and took away the plate. We were a little stunned like vegetables as most establishments would simply add the correct food item. What will they do with the melting strawberry gelato?
Anyway, the staff returned moments later and said they would add on the correct gelato and that the wrong one would be complimentary. They came back with a separate cup of strawberry cheesecake gelato. All four (actually five) gelato flavours tasted average except for the strawberry cheesecake which was very rich in flavour.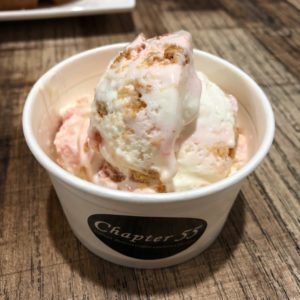 On the whole, the food and dessert were a great disappointment, and the menu was definitely overpriced. We will not be re-visitng this bistro.
Address
55 Tiong Bahru Rd, #01-37, Singapore 160055
Opening Hours
1130am – 11pm (Mon-Sun)