Casa Verde is a lovely cafe nestled within the lush greenery of Singapore Botanic Gardens. Casa Verde means Green House in Italian. If you are driving or taking a cab, grab, etc, alight at the Nassim Gate. It offers a variety of food from western food to local delights. We love to bring our dog along for a hearty breakfast. Yes, the cafe is pet friendly. The majority of seating area in the cafe is outdoors, with a smaller air-conditioned-indoor section.
There are no service charges or GST and you need to place your order at the counter. If you go in the late morning, say after 930am on weekends or public holidays, be prepared to queue quite a bit. Upon ordering you will be issued with a disc which is to be placed over the number on your table. On this particular morning we ordered the Gourmet Breakfast ($20) and the Nasi Lemak Heritage Set ($15).
The Gourmet Breakfast is a plate full of goodness to start your day. There were two eggs (fried or scrambled), mushrooms, back bacon, cumberland sausage, hashbrown, grilled tomato, kale and toasted country bread. It was accompanied with strawberry jam and butter for the bread. My wife loved the strawberry jam. The mushroom was lightly sautéed with olive oil which helped to retain the mushroom's natural flavour. I enjoyed the back bacon and wished the portion was more. We usually asked for the eggs to be cooked in sunny side up style as their scrambled eggs were on the dry side from past experience.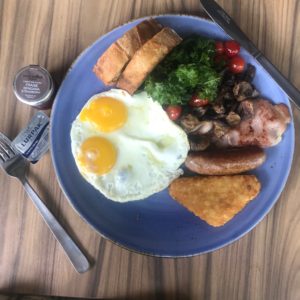 Nasi Lemak is coconut rice served with two fried chicken drumlets, beef rendang, an egg, ikan biles and peanuts and of course, the sambal chilli. We do not like beef rendang and it was replaced with two more chicken drumlets, yeah. Sometimes, the rendang would be replaced with chicken nuggets. My wife do not like sunny side up eggs and thus we requested for a fried egg instead. For the Nasi Lemak, the standard was not very consistent, this round, the coconut rice was not fragrant although it's generally ok. The sambal chilli is among the better ones in Singapore. The Nasi Lemak set came with a soyabean milk or soyabean curd. The soybean milk was somewhat diluted.
We recommend this cafe, especially if you have furry friends. After a satisfying meal, you can have a stroll in the Gardens to digest your meal.
Address
1 Cluny Road, Singapore 259569
Tel : 6467 7326
Opening hours
Monday – Friday – 7.30am to 8pm
Saturday & Sunday – 7.30am to 9.30pm
http://www.casaverde.com.sg