(logo photo credit: American Express)
Platinum VIBES is a lounge curated by American Express for its Centurion and Platinum Members. It is located at Marina at Keppel Club and offers views of the marina while you indulge from a menu prepared by Michelin-starred Chefs and sip wine from a Park90 list (partnership with Robert Parker Wine Advocate).
One Sunday, my wife and I went over for lunch. A waitress attended to us and showed us the lounge and restaurant areas. We opted for the restaurant area as we planned to eat lunch. The lounge area had a better ambience with more expansive views. There was a family dining at the lounge and we were the only patrons in the restaurant section.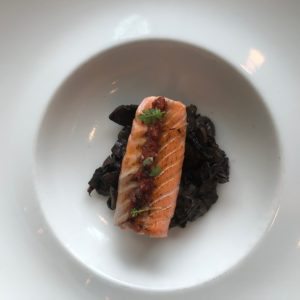 The meal presentation was nice although the portions for the mains were small. The sourdough bread was warmed and alright. My wife had salmon confit which was slightly salty and ok. For me, the roasted chicken was just a tad salty but it had the chicken taste.
The lemon tart was refreshing and undoubtedly the star of the meal. The welcome drink was a house pour or non-alcoholic drink for each Centurion/Platinum Member. You can't go wrong with Earl Grey tea, brewed from Twinnings tea bags. The cappuccino was strong and good. The choices for French white wine (by the glass) were limited (only two). The one I tried was quite fruity, I prefer a more full-bodied wine usually but still it made for an easy drink.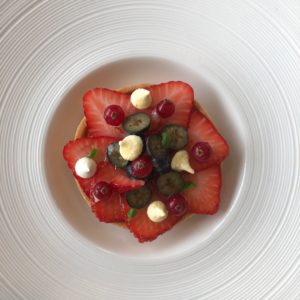 The service was good though it was very empty anyway. The waitress was very attentive, too attentive in fact for my comfort. She resembled Black Widow from The Avengers; she had a very fierce look and doesn't smile. I think she will look sweet if she smile.
All in, I think chilling out would be a better option, as the alcohol selection is not expensive. For mains, it might actually not be too bad as my wife's palate leans towards non-salty. So the food might be be great for most.
Although we may not go often, it's nice of American Express to have a dedicated facility for its members.
Location (till 30 June 2019):
Marina at Keppel Bay #02-02/#02-02A/#02-03
Operating Hours:
Wednesdays: 5pm – 12 midnight
Thursdays – Saturdays: 12 noon – 12 midnight
Sundays – Tuesdays: Closed