Craving for Cha Chaan Teng? There is no need to fly to Hong Kong! You can ease your craving Central Hong Kong Cafe in Singapore. They have a few outlets over the island. We visited the outlet at Wheelock Place.
Entering the cafe is akin to a time travel experience to Hong Kong.  The cafe had a similar decor to the that of the Cha Chaan Teng cafes in Hong Kong but it felt more posh but still evoked nostalgia with the black and white theme, ceiling fans and mosaic tiles. The service staff were attentive.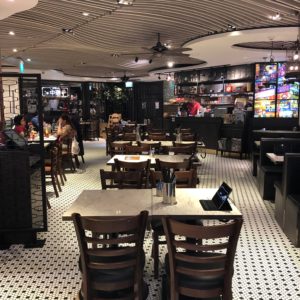 Besides a variety of food offered like noodles, rice, snacks, sandwiches. You could find beverages such as Yin Yang, Hong Kong Milk Tea and also dessert. This was not our first visit and we swiftly ordered our food. Tablets were placed on each table for self-ordering.
For the Cheese Baked Rice with Chicken Chop ($10.90), the rice was flavoured, and covered with a generous amount of mozzarella cheese, with some green and red capsicums and onions. The rice was baked till the cheese melted. The chicken was tender and succulent. Each mouthful was heavenly.
The Chop Chop Rice Plate ($8.90) came with options for chicken or pork chop and was served with tomato gravy and fried egg. We opted for the pork chop and while the dish tasted fine, it was not as great as the cheese baked rice with chicken chop. Both dishes used the same flavoured rice. The pork was tender and tasted sweet and sour. The sweet sauce was thick.
Egg noodles were used for the Sichuan Dan Dan Noodle ($6.50). The noodles were soft and springy and came with lots of minced pork. The soup is a little sour and spicy and my wife preferred it to be more sour and spicy. It would be great if more vinegar was added.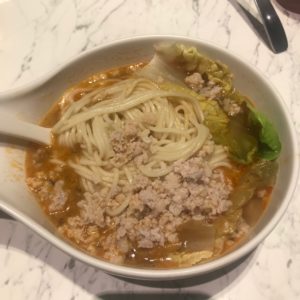 For the Luncheon Meat with Fried Egg Sandwich ($3.80), the bread was a little stale and the luncheon was thin and not fragrant.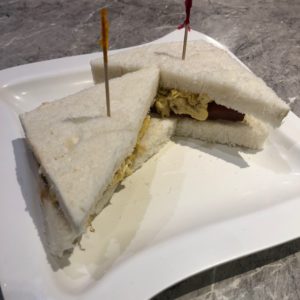 The iced Milk Tea with Gulu Melaka ($3.80) was fragrant but way too sweet even though we selected the less sweet option when ordering. We are not sure if the kitchen overlooked our preference. We raised this to the staff who promptly proceeded to add more tea and assured us that they could replace it if it was still too sweet. It was slightly better after more tea was added and we waited for the ice to melt.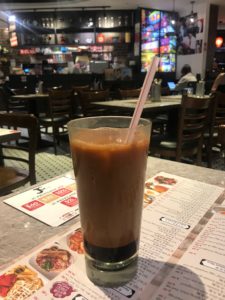 All in, we had a generally favourable experience dining at Central Hong Kong Cafe and would recommend it.
Address
501 Orchard Rd
B2-01 Wheelock Place
Singapore 238880
Tel: 62624056
Opening hours
10am – 10pm daily