The journey of a thousand miles start with a first step. Din Tai Fung is famous all around the world; it is not unusual to see long queues at its restaurants, but it all began from a little shop at the junction of Xinyi Road and Yong Kang Street. When we vere in Taipei, one of our KPI was to visit the original store. Yong Kang Street is a bustling food street while Xinyi Road is a very long and prominent road in Taipei City. Although the official address is at Xinyi Road, it is easier (for tourists especially) to refer to the original store as Yong Kang Branch.
We were there one cold evening. There was a burner outside the store for patrons to keep warm. We took a queue number and as the estimated wait time was 45mins, we took a walk along Xinyi Road. Not long after we came back, our number was called.
From the exterior, the restaurant at this branch was definitely the least posh of all the Din Tai Fung outlets we have been to in Singapore and Taipei. The restaurant was pretty narrow and it was spilt into three levels. There was no lift so be prepared to climb if you are directed to the top level as we were. The decor at this outlet was much simpler than the other outlets we have been to. Without much delay we ordered our favourite dishes, egg fried rice and steamed pork Xiao Long Bao. There isn't an egg fried rice dish specifically listed in the menu. You can mention it to the waiter or waitress however.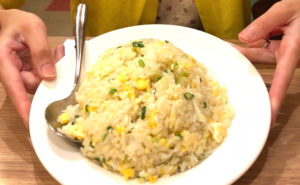 The piping hot Xiao Long Bao came in a bamboo steamer. The waitress  introduced us to the sauce formula which we knew some years back when we went to Taipei. The ratio is 1:2:1 for light soya sauce, vinegar and chili oil. However, we always opt out of the chili oil. Thinly sliced ginger was served to go along with the Xiao Long Bao. I tried the Xiao Long Bao without the sauce to appreciate the original flavors. As for my wife, she loved the combination of the sauce and ginger. Taste-wise, the pork was juicy and the sweetness of the pork could be tasted from the broth in the dumpling. The pork used was fresh. The skin of the Xiao Long Bao was thin and soft. The fried rice was fragrant, grainy and not too salty. We had tried other Din Tai Fung outlets in Taipei and this was the best among all the outlets. Piping hot Chinese tea was served, which was heart and body warming on a cold day.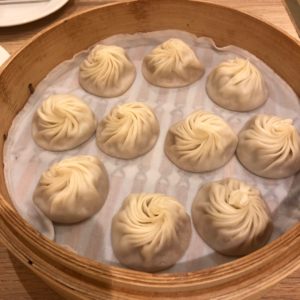 When we left, we got ourselves plush toy. It did not come cheap tough.
Address:
No. 194, Section 2, Xinyi Road, Da'an District, Taipei City, Taiwan 106