Kawaii! Shirohige's  Cream Puff Factory is a cute cafe tucked away in the quaint Tokyo suburb of Setagaya. Before the trip, my wife was waiting for this day to come. For her, it is a must-go destination. If you are a fan of Studio Ghibli, don't miss this cafe.
Getting here was not a walk in the park, neither was it exceedingly difficult. You can take Odakyu Line from the Shinjuku station to Setagaya-Daita Station (about 20mins ride). The cafe is a 5-min walk away from Setagaya-Daita station. One tip: whichever map you rely on, just bear in mind that most routes on the map are actually trails in reality rather than a well-paved road. This is not Central Tokyo. Follow your heart and you will soon see this TOLO sign. You have arrived.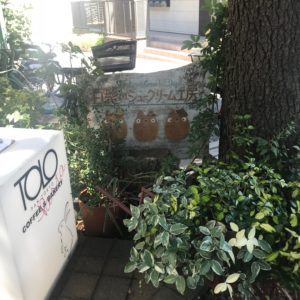 When you enter the cafe, you would see a display of Totoro plush toys. Located at level 1 was the bakery which sells Totoro puffs for takeaway. Takeaway pricing is cheaper than dine-in pricing for the puffs. The spiral staircase will lead you to level 2 where you can dine in.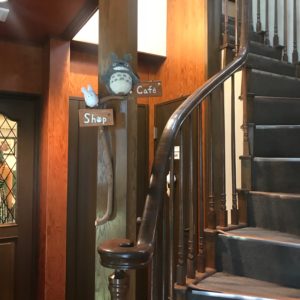 The cafe owner is the sister-in-law of Hayao Miyazaki, founder of Studio Ghibli. This café bakes cute delicious Totoro puffs and serves other food as well. Seating capacity is limited and it is advisable to make a reservation to prevent disappointment. We did not make a prior reservation. Fortunately, we did not have to wait as there was a table for two available. We were informed that there was a reservation for that table in about 90mins time, which was perfectly fine with us. Each person who dine in was expected to order a drink.
We ordered a chocolate Totoro puff (420 yen) and a carbonana (1,000 yen) to share. I ordered a iced coffee for myself while my wife got an iced tea. The food arrived to our great anticipation. Ain't the Totoro puff cute? The choux pastry was fluffy, light and airy and the chocolate filling was creamy. My wife enjoyed it very much. The pasta's cream sauce was light and creamy and well-flavoured. The iced coffee was a little too light while the iced tea was very fragrant.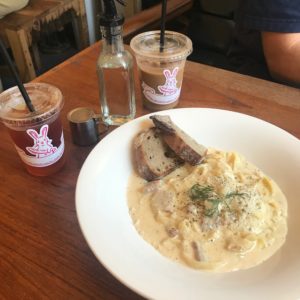 While it's somewhat out of the way, it is still a novel place that you can consider. You will not be disappointed with the food and the cute factor. Oh, it's very Instagrammable too.
Address: 5-3-1 Daita Setagaya-ku, Tokyo 155-0033
Opening hours: 1030 – 1900 daily