(photo credit: Singapore Airlines)
This is a review of the Singapore Airlines A380-800 Premium Economy SQ 231 SIN-SYD (0045-1150) flight experience. The bulk of this review was written during the flight itself as I could not sleep well. What happened? Read on.
It did not help that I had an extremely choppy airport transfer in an Alphard. I was feeling nausea and disoriented upon reaching Changi Airport Terminal 3. We went to the KrisFlyer Gold lounge which can be described in one word: packed. We found seats and ate some pop corn chicken. I barely ate anything at the lounge and drank plain water to stabilise the nausea.
We boarded the plane before it took off, duh. The Premium Economy seats were laid out in a 2-4-2 format, compared to the 3-3-3 format in the Economy cabin. The Premium Economy seats will supposedly pamper you with a seat width of 19.5 inches, seat pitch of 38 inches (pitch is the distance from a seat to the next in front) and 8 inches of recline. Compare that with seat width of 18-18.5 inches and seat pitch of 21 inches for the Economy seats. What matter most for me during the flight experience are the size and comfort of the seat and the legroom. Nothing beats being able to shuffle about when you have problem sleeping. The Premium Economy seats were also equipped with a calfrest and a footrest.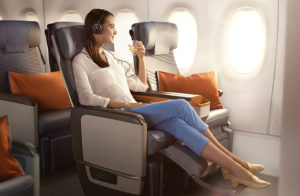 The seat width differences (between PE and Y) are marginal on paper, and I was pleasantly surprised that the Premium Economy seats felt wider than expected. I attribute this to the theory of excess capacity (invented by myself). The theory of excess capacity states that the real and perceived improvement in seat comfort between seat sizes can be derived by comparing the excess capacity of the various seats. Sounds technical, doesn't it? Let me illustrate. I vaguely recall that my bum width is about 15 inches, which translates to an excess capacity of 3.5 inches (18.5 minus 15) and 4.5 inches (19.5 minus 15) in Economy and Premium Economy seats respectively. Thus the comfort improvement is 28.57% (4.5/3.5-1) or almost 30%. If you are skinny, say with bum width of 12 inches of less, your comfort improvement will be capped at 15%. In short, you are more likely to place a premium on the wider Premium Economy seats if you are considerably wide. The legroom improved considerably in Premium Economy over Economy.
On the recline, I find the statistics very elusive. What does 8 inches of recline mean anyway? I would prefer it if Singapore Airlines shared the additional possible recline in degrees or radians (note: pi radians = 180 degrees). Otherwise, we have to resort to Trigonometry which should be avoided with a long pole after high school.
Our experience is that if it was a short flight of four hours or less and you are sitting for the whole duration, the seats can be quite comfortable. However, the seats were not ideal for sleeping. Despite being extremely exhausted, I could hardly sleep. I closed my eyes for a few hours but I could tell what was happening. A baby cried now and then and a child exclaimed now and then.
No matter how I reclined or tweaked the footrest, the seat position did not felt right for sleeping. The Premium Economy seats were not like Business seats where all components of the seats move in tandem if you know what I mean. I exchanged notes with my wife and she also said the seat was weird. We are not tall and our feet barely rested flat on the floor, that could be a reason.
Food wise, we skipped the supper which was served shortly after take-off. We drank some juices. After a few hours, I was quite famished and asked for some cup noodles. The water was not hot and thus the noodles tasted wierd. I ate some of it. I actually forgot to order some food via Book the Cook. Book the Cook is 'an unforgettable dining experience in the air where you can choose from creations inspired by Singapore Airlines' International Culinary Panel up to 24 hours before your flight' (lifted from SQ's website).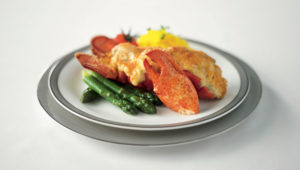 Come morning, breakfast was served. Three options were offered: scrambled eggs, Indonesian fried noodles and Singapore carrot cake. My wife took the noodles, they were quite alright though not to my liking. They tasted like mee goreng somewhat. My scrambled eggs were excruciatingly salty. They were in reality salted scrambled eggs or rather salted eggs, scrambled style. My wife took a small portion of the eggs and did not swallow it. And I ate half of it!! Yeeks. The best part of the breakfast for me was the apple juice and the Emmi Swiss premium yoghurt. The guy beside me took carrot cake, it looked interesting but he ate half of it.
The service was average. My wife's footrest could not be brought down and an air stewardess said that nonchalantly that it was screwed too tight. Later I asked another air steward to put the malfunction on record. I wonder if there will be any recovery from Singapore Airlines. To date, I have not heard from them. After collecting the breakfast, I tried to catch some sleep using a new position but it did not help matters much.
This was our first time traveling by Premium Economy and it will also be our last time. It is not so much about the food experience but the comfort of the seat for sleeping. There was no noticeable improvement in the service we experienced, and we have had better service while traveling by Singapore Airlines' Economy class at times.
Again, if you are not planning to sleep, it should be fine. Premium Economy travel also comes with a host of privileges beyond Economy travel, such as priority check-in, priority baggage handling, Book the Cook service and other enhanced seat features like a 13.3 inch full HD monitor, in-seat power supply, USB ports.