(photo credit: Renaissance Hotel)
When we visited Hong Kong in December 2018, we stayed first at the Renaissance Hong Kong Harbour View Hotel. The hotel is connected to the Wan Chai MTR station via a long elevated and covered walkway (15 mins walk). During the check-in, the reception staff was unfriendly and hurried us through the process. The overall service during our stay was average and impersonal.
We were upgraded to the (side) Harbour View room which offered stunning views of the Victoria Harbour and the eastern areas. A pair of binoculars was provided for our enjoyment. The other Harbour View rooms were large (Junior Suites or larger) and faced the Tsim Sha Shui side.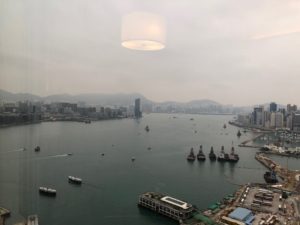 Our room was warm and cosy with a light brown interior decor. At about 30sqm, it was a comfortable size by Hong Kong's standards. The bed was comfortable and provided a good rest.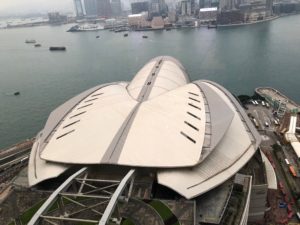 The bathroom had an interesting design. In place of the usual mirror was a glass panel (with blinds) which allowed you to look across into the bedroom and beyond. You can thus enjoy the harbour view which brushing your teeth. In principle, you can also enjoy the harbour view from the standing shower too. I am not sure you want to do that though.
Our room was located on the same level as the Executive Lounge which offered views towards Tsim Tsa Shui. We had afternoon tea on the day we checked in. The crowd was overwhelming and there was a perpetual queue for the food. Guests to the Lounge were not checked and we suspect not a few guests infiltrated it. Finding a table was not easy. The dessert was fabulous. The breakfast spread was decent but the crowded situation repeated itself. It hardly felt exclusive.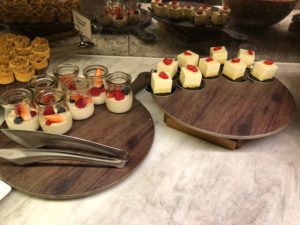 We would not recommend this hotel. The main selling point are the views offered from the hotel's vantage location. If you must stay, do not pay for the Executive Lounge access. I don't suppose the main dining area can get worse.