This is a review of G Restaurant Awards of Excellence winner Ash & Elm restaurant at InterContinental Singapore Hotel. The restaurant is helmed by Chef Adrian Chan and their premium meats are also recommended by Michelin.
We hosted a dinner there for some friends recently, it was a group of 6pax. It was our third time dining at the restaurant and with the same group of friends, so you can already guess it's a favorite dining spot for us. The restaurant met my request for a private spot. The restaurant has a nice and relaxing ambience which allows for long conversations into the night with great company. On our third visit, it was a breeze to order as we ordered back the same items and left out some which we felt were average from earlier visits. Let's dig in!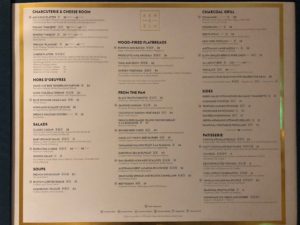 First came two complimentary bread platters. There was a wide variety of bread and they were all tasty, some of them were salted. Regular and seaweed butter were provided which enhanced the taste.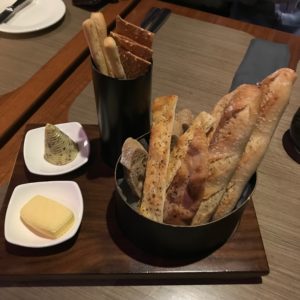 We were served our wine. We ordered an Italian red which was light to the palate. My wife and I personally preferred a full bodied red but our friends favored lighter wines.
Next came the wood-fired pumpkin and bacon flatbread ($22), cut into eight portions. It was warm, soft and well balanced between the melted mascarpone cheese, the sweet pumpkin and the savory bacon. The pine nuts also gave a refreshing crunch to each bite.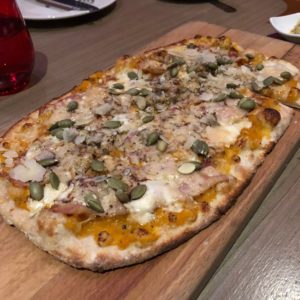 Soon the baby spinach salad ($15) and cheese platter ($24, selection of three cheeses) arrived. The salad came with beetroot, pine nuts, button mushrooms, feta cheese and honey mustard dressing. It was alright though the pine nuts have gone rancid. For the cheese platter, we selected Brie, Gruyère and Emmental cheese. Brie is easy for beginners to cheese like me. Surprisingly, I enjoyed Gruyère though Emmental felt firmer and the taste is not as cheesy as what I am used to. But I believe it's an acquired taste when it comes to the different types of cheese.  The cheese platter came with cranberries, grapes and walnuts.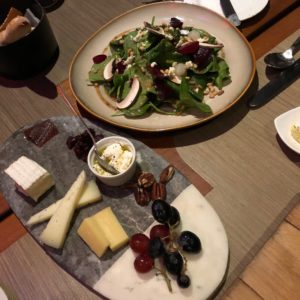 We were disappointed with the Australian beef lasagne bolognese ($26). We tried it on our second visit and it was good then. This time, it was not cheesy enough and the beef layer was too thick and not moist. It lacked the tomato flavour too.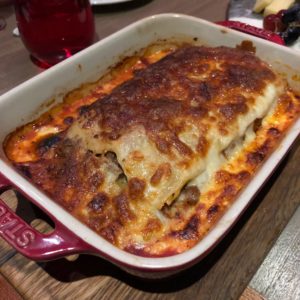 The highlight of our dinner was of course the All About Beef sharing platter ($148 for large platter, medium-done). The beef platter came with sirloin, tenderloin and ribeye, and also three types of sauces: natural juice, béarnaise and peppercorn. We enjoyed the beef on all three visits, but this time, it was superb. You can taste the charred edges on many portions and my personal favourite was to accompany it with natural juice though the group enjoyed the béarnaise sauce too.
A note about the grass-fed Australian lamb saddle ($58). I don't eat lamb and was persuaded to try it then. I tried and asked for more. This round, it did not disappoint. It came in six portions and a morsel for each person seems too little now as we ordered less items compared to before. Maybe we will get two servings in future. The lamb came accompanied with natural juice.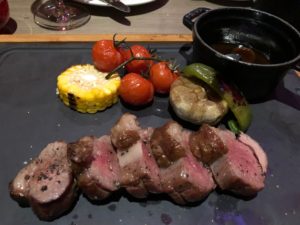 For dessert, we ordered vanilla macadamia soufflé ($20). A 30min wait time was required. Macadamia nuts were added inside the soufflé, which dramatically altered the texture and the taste of the dessert compared to our previous experiences. It was accompanied with Mandarin basil sorbet, orange compute and vanilla sauce. We did not enjoy it as much as before. I just checked the menu and realised that macadamia nuts were now mentioned and the sorbet flavour has changed from lemon previously.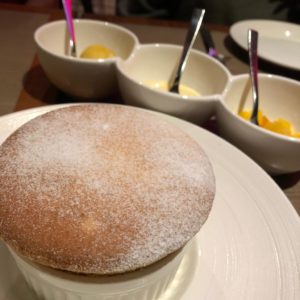 Despite some disappointments, I would still rate highly the dining experience at Ash & Elm. The service staff was attentive; we hardly troubled them anyway as we were busy tucking into the food. The beef and lamb were really good. You might want to request for the nuts to be omitted if you are getting the soufflé. Just go and eat and thank me later.
Address: 80 Middle Rd, Singapore 188966
Opening times: 6-10:30am, 12-3pm, 6-10:30pm daily
Phone: 6338 7600