My wife and I just got back from the MICHELIN Street Food Festival 2019, held at Resorts World Sentosa. This is the third edition of the event and the first time we attended an event like this. We have only tried one Michelin restaurant in Singapore prior to this, so we were quite excited at the prospect of attending an event which housed many Michelin establishments. It was organised by Robert Parker Wine Advocate with various supporting partners like Resort World Singapore, Singapore Tourism Board and American Express among others.
We were provided with two complimentary tickets from American Express (thank you!) and gingerly made our way for our 5:30pm session on a relaxed Saturday. We obtained free admission into Sentosa by showing our tickets and parked at Hard Rock Hotel (do note that parking was not cheap). When we arrived at The Coliseum, we saw this.
I joined the queue but a lady approached me shortly after. When I showed her my tickets, she gave me two green wristbands and said I could go all the way in. And so we went. At the gate, there were two lanes, one for Regular and one for VIP. The Regular ticket costs $30/pax and comes with 10 coupons (i.e. each coupon sets you back $3). The VIP ticket costs $200/pax and will pamper you with a dedicated seating area and service staff attending to you and bring you tasting portions from all stalls. VIP participants will also be welcomed with a glass of wine and beer. Each of our complimentary tickets came with 5 F&B coupons each and 1 additional coupon which could be redeemed for a bottle of Evian mineral bottle or Badoit sparkling water.
In no time, we sat down at a table with water to quench our thirst. A nice brother who was leaving gave his seats to us.
We first tried the famous Putu Piring (2 coupons) from the Haig Road Food Centre. I have heard of this from my colleagues but have never tried it though I have been to the Food Centre numerous times. It was thus opportune to give it a try. Our verdict is one word: outstanding. They were one of the first stalls or probably the first stall to have sold out for the day within the first session on Saturday i.e. those who came for the second session from 8pm would be disappointed.
Next, we tried wanton noodles (2 coupons) from Ji Ji Wanton Noodle. This stall is renowned at Hong Lim Food Centre. We have patronized them on numerous occasions. I complimented the young lady for being very well dressed today. I didn't compliment her for the portion though. It was very little and vanished in just four mouthfuls between my wife and me. Furthermore, I did not open my mouth wide. Nonetheless, it was the same familiar taste, springy noodles with savoury sauce and crispy fried wantons. We enjoyed the char siew too.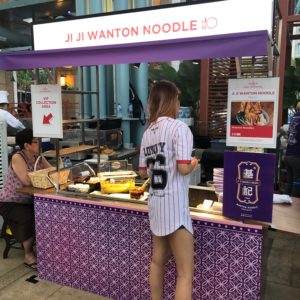 We also tried the Zhong Guo Xiao Long Bao. There was a queue and it took me at least 10mins. A portion of 6 dumplings would set you back by only 2 coupons, fairly generous. When we tucked in, we were quite disappointed. The first two dumplings felt dry as there was not enough broth. The remaining ones has sufficient broth but the skin texture was a little thick. The pork filling was not fragrant and had a sweet taste, which was strange for Xiao Long Bao. I don't think it's fair to rule them out with just one encounter. In fact, my wife tried their handmade noodles at Chinatown Complex several times and gave the thumbs up. I would definitely drop by some day to give another try. Do note that Chinatown Complex would be closed for renovation between 1 March to 31 May 2019.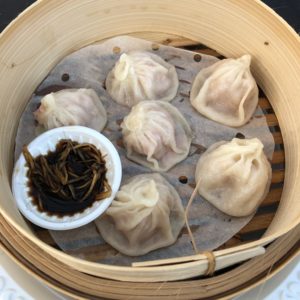 Last but not least, we ended our meal on a sweet note with official Ice Cream Partner Tsujiri's soft serve ice-cream (2 coupons). There were people queuing for it perpetually. I queued first for Matcha ice cream. It was fragrant with an intense burst of Matcha flavour. The ice cream melted in our mouths. I queued again for a second helping and opted for Hokkaido Milk flavour. It went very well and flowed smoothly down our throats. Nice. What got us pleasantly surprised was that the serving was large. At their retail outlets, I believe the prices would be going for about $5, thus the mark-up at this event was minimal.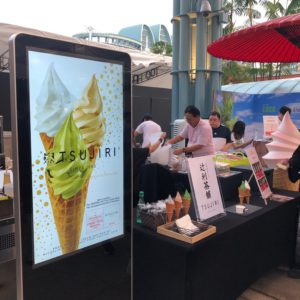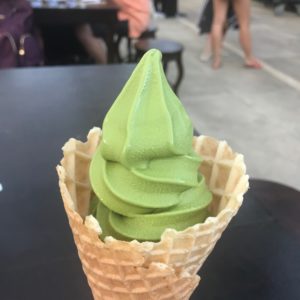 Having used up all our coupons, we started to observe the surroundings more carefully. The ambience was not too bad, it felt like a refined food street. The event was packed but not overly crowded. You can move freely and tables (regular/bistro) and seating were ample. The crowd seems to be enjoying themselves. Some went on to purchase additional coupon booklets which were sold in multiples of $30 and payable by cash or American Express cards only.
A note on the VIP seating area. The setting felt a little strange to me as it was elevated on a stage. It somehow felt ostentatious as opposed to a discreet luxurious setting which would have been more apt in my view. The purple lighting also made it look like a getai (Chinese live stage performance commonly held during the Hungry Ghost Festival).
All in all, my thoughts are that the items were fairly overpriced for the hawker fare in general. I can't comment for the non-hawker food as I have no idea on their regular pricing. Those who came later would be sorely disappointed if their desired stalls have sold out. We did not savor enough food to have a good feel, but it was still a good opportunity to savor a whole range of food from Michelin establishments under one roof. You have a wide gamut of food served by famous establishments ranging from New Ubin Seafood (Bib Gourmand) to 1-Star Burnt Ends and 2-Star Shisen Hanten.
If money is no object, the VIP experience would pamper you all the way. However, regular guests would be able to immerse in the full street food experience of queuing for their favourite food sans the heavy sweating as ventilation was quite alright with powerful blowers strategically located.
Will we be back next year? Yes, if the mix of stalls is sufficiently different.
EVENT DETAILS
The MICHELIN Guide Street Food Festival 2019
22 Feb to 24 Feb 2019
The Coliseum, Resorts World Sentosa