When we were visiting Hong Kong, my kakis introduced a few night spots. Mott 32 was one of them. My wife does not like night spots as they are usually very dark, noisy and can be smoky. We went to a few places and asked to preview before settling for Mott 32.
Mott 32 was tucked away at the basement of the Standard Chartered Bank building. It used to be the bank's vault, wow. The interior decor was a fusion of Chinese, industrial chic and cool look and designed by renowned designer Joyce Wang. As you descend down the long escalator and a winding staircase, it made one feel like you are entering a mystery place or hideout. Dim sum and dinner were served and beautiful Chinese-themed dividers separate the restaurant into various sections. As we were there for a drink, we were seated near the bar counter. We could see the bartenders busily preparing drinks. It was interesting to see them at work.
The menu was interesting. My wife got a mocktail Jasmine Cooler (HKD85) and I got a cocktail Forbidden Rose (HKD130). Jasmine Cooler was concocted from lychee, jasmine tea and orange blossom. Forbidden rose has vanilla-infused macchu pisco, passion fruit, lychee, chilli, lemon and flower. I must say I was apprehensive at the ingredients like chilli and flower.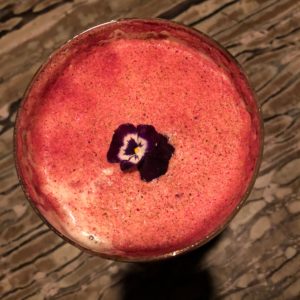 At the first first sip of the Jasmine Cooler, you could taste the light sweetness of the lychee and the fragrance of jasmine tea and orange as an aftertaste. It was a light and freshening drink, definitely a great drink for summer! As for the Forbidden Rose, the first sip was a little spicy as I was not used to the taste. After a few sips, I started to enjoy the drink more. The flower was edible. The highlight of each sip was the chilli powder strewn across the surface of the drink. I think my lips swelled slightly.
We also ordered a starter, fried frog legs with pepper, dried chili and black bean (HKD155) to nibble on. The frog legs were very delicious. They were lightly crispy on the outside and moist and tender inside.  The dried chilli helped spiced up the dish but it was in no way spicy. Our only gripe was that the portion was quite little. As I write this review, I am craving for the dish now.
The ambience was cosy and it was not too noisy or dark. There was no smoking. The service was well rendered. We enjoyed sitting back, chilling out, watching people and also the bartenders as they went about their craft. We were looking so intently that at one point one of the bartenders thought we were trying to get their attention.
Mott 32 is definitely a place that we will visit again the next time we are in Hong Kong. The next time, we hope to have a meal there in addition to drinks.
Address:
Mott 32
Standard Chartered Bank Building
4-4A Des Voeux Road Central, Hong Kong
Tel: +852 2885 8688
Opening hours:
Monday – Sunday
12- 2.30pm, 6 to 11pm
www.mott32.com