THE PLATINUM af'FAIR 2019 is an event organised annually by American Express for its Platinum and Centurion cardmembers. According to old birds, the 2019 event was probably the third or fourth iteration. This year, I was privileged to receive an invitation for this event (thank you Amex) which was held on 11 May 2019. It was held at The Arts House, one of Singapore's most historic (home to the first parliament) and iconic buildings. There were two sessions: Afternoon (12:30-5:00pm) and Evening (7:00-11:30pm).
I registered for the afternoon session for myself and my wife. Unfortunately, we were held up at work and arrived only at 3:30pm. We were greeted with hordes of personnel in black American Express T-shirts who guided us to the registration. Registration was seamless and we were provided with wrist tags. The wrist tags contain QR codes which were used to qualify for the various freebies. Upon registration, we were each given a welcome tote bag which contained an event guide and a Amex Platinum-branded powerbank.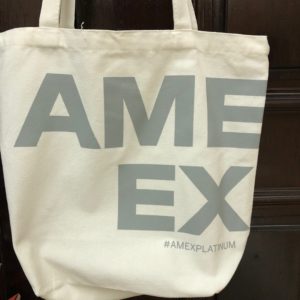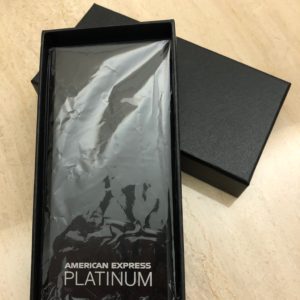 Before attending the event, my impression of it was that it would be an Atas Pasar Malam. In fact, one of my kakis pointed out that af'Fair stands for adult fun fair. I certainly didn't know that. In any case, the reality was not too far from my initial expectations. The Arts House is a pre-war 200-yr old building with colonial architecture. On the ground level, there was a lawn and also food stalls in the outdoor areas and also within the building. There were also various activities conducted in different rooms on the second level. Right after registration, we took a photo at a photo booth with a nice backdrop. The photos were printed almost immediately and given to us in a nice booklet as a keepsake. Oh, the dress code was weekend chic in bright heritage colours. Not everyone came in heritage wear though but there were no issues with admission. We wore a matching batik fusion attire and received some compliments about it.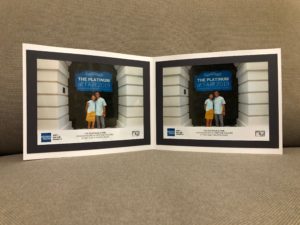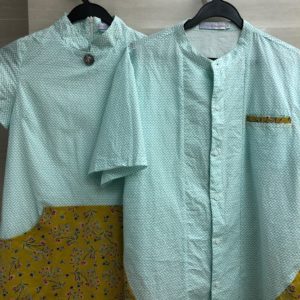 We then proceeded to grab some food as we had less than 90mins left before the Afternoon session came to an end. American Express worked with various vendors to offer an experience that appealed to the senses. We started with the Nasi Lemak tapas and Chicken Rice Tapas by Food Anatomy. For the Nasi Lemak Tapas, the green layer had some artificial coloring taste. The egg felt a bit strange like it was mass produced by some machines or perhaps robots in this age. The coconut rice was certainly fragrant and went very well with the sambal chilli. Unfortunately, the sambal chilli was really too little. The Chicken Rice Tapas was really quite good. The meat was boneless and tender and the portions (both rice and meat) were generous. The rice was fragrant, slightly salty. The chilli was good and adequate in amount.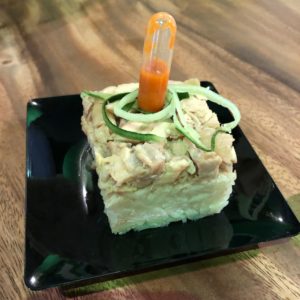 We also tried the Popiah from Kway Guan Huat Joo Chiat Popiah. The turnip fillings were not hot, not even warm. Having said that, it tasted quite good and the chilli used was quite unique, towards the kueh patih type of chilli. It can be quite hot for those who can't take spiciness well. I was very thirsty and took a Cold Pressed Juice by Juix Up. The juice comprised watermelon, pineapple and passion fruit and was awesome for quenching thirst in an afternoon. I really regretted not helping myself to another drink as it ran out by the time I went back towards the close of the event.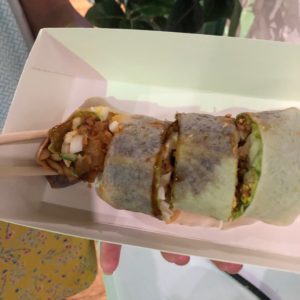 After satisfying our hunger slightly, we proceeded to the lucky draw station for a sure-win lucky dip. Most of the prizes were valued at about $50 or more. The top prize was a pair of tickers to a weekend dining experience at Gucci Osteria da Massimo Bottura. Both of us were entitled to the draw and we won a Veuve Clicquot champagne and a TWG French Earl Grey Tea. Wished we won better prizes but I am not complaining.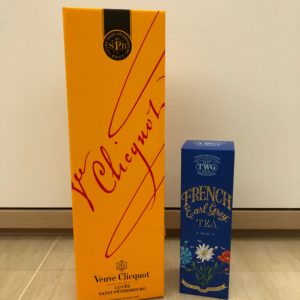 Near to the lucky draw station was the Satay counter which had already ran out by around 3pm even before we arrived. I guess it goes without saying that it must have been good. We then had Wanton Noodles by Micheline-Starred Chef Kang Noodle House. The noodles were springy but very salty as it was excessively soaked with the sauce. There was a lot of pork lard in the sauce which can be a good or bad thing depending on whether you like pork lard. The char siew was tender but too fatty for us. We also had some pastries from the Dessert Bar but they tasted average.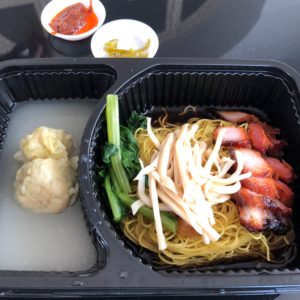 Next, we proceeded to the floral bar on the second level where you can pick your blooms to create a floral bouquet or a floral crown. We were only interest to create a floral bouquet. Each guest was entitled to pick three stalks of flowers and five stalks of fillers/leaves. The fillers had ran out when we were there. We combined our quota to create a bigger bouquet. The floral vendor had personnel on hand to help wrap the bouquet but my wife opted to wrap it herself. We were surprised that water was not provided to keep the flowers hydrated while on display or when the bouquets were wrapped. After the event, my wife unwrapped the bouquet to add a hydrating base and also enhanced the wrapping look. She presented it to me and I recalled that the last flowers I bought her was her bridal bouquet. I wonder if she was hinting anything to me…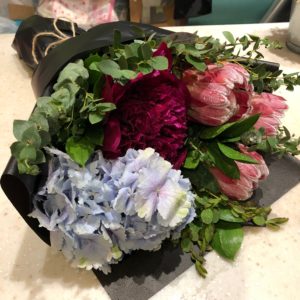 On the second level were also other activities like having your caricature sketched or creating a pewter trinket. We provided our messages to be imprinted on some retro mugs and posters and left before collecting them later. For the poster, we requested for a Do Not Disturb message. This poster will be hung outside the bedroom door when my wife ges upset with me in future. We also participated in a personality quiz which sought to identify the perfume that most suited us. One of the suggested perfumes had run out of stock. In any case, we took the ones we favoured which were Girl and Vanda.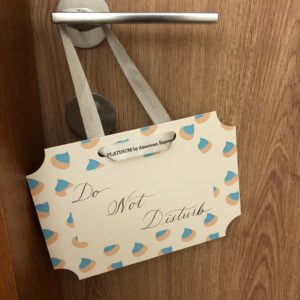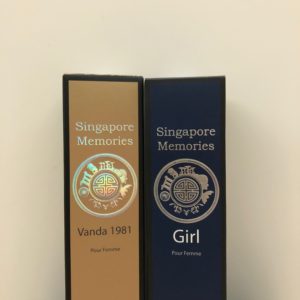 Time was running out as we wanted to make sure we taste some other food too. We had Roti Prata by Good Ol' Crispy Prata, Summer Berries ice cream by Tom's Palatte, Chendol by JJ Local Desserts and also Sugar Cane Juice. The Roti Prata was freshly made and thus hot and crispy and went well with the fish curry although the prata itself was salty. That didn't stop me from going back for a second serving. The ice cream was nice and refreshing. The Chendol was a letdown though; the red beans were tough the the green jelly had a strong coloring taste. The coconut milk was a bit diluted. The sugar cane juice was diluted.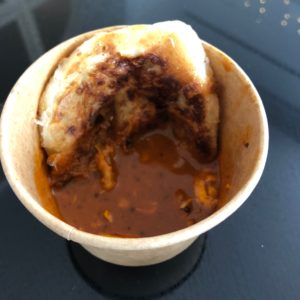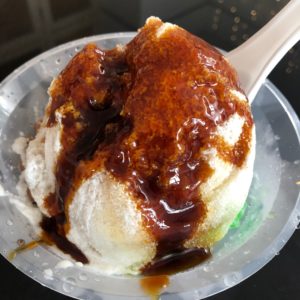 Next, we popped over to Timbre where a selection of pizzas with a local flavour twist (eg hae bee hiam, beef rendang) were offered. We did not try the pizzas though. We helped ourselves to another serving of the Nasi Lemak and Chicken Rice Tapas and Popiah. I also drank a glass of champagne. It's likely Moet and Chandon or Veuve Clicquot. I have not drank champagne for quite a while and it tasted nice even though it was not really cold. Finally, we went back to Timbre and chilled out for a couple of minutes over some soft drinks before leaving.
On the whole, this event was very well organised even though the initial pre-event registration had some delays in confirming our seats. It wasn't overly crowded. We enjoyed ourselves and while not all the food were great, there were enough nice food to keep us happy. There was a great other variety of food and drinks which we did not manage to try this round. If we had more time, we would definitely have been able to indulge more in the activities. There was also a live band which we would have sat down and appreciate too if we had more time. The cost for a guest was 5,000 Membership Rewards Points or $50. It was definitely worth it and we look forward to the next event. We hope to attend the next event punctually and get to know more people.