Peter Rabbit Garden Cafe is a themed cafe. It is located at Jiyugaoka, an affluent neighbourhood in the south of Meguro. You can head for Jiyugaoka station from Shibuya station on the Tokyu Toyoko line (about 20mins).
The cafe was within a 5-min walking distance from Jiyugaoka station. You won't miss it as there were rabbit decorations all around the cafe. The moment you step into the cafe, you are entering into the world of Peter Rabbit story book. The story begins…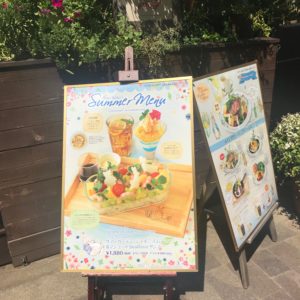 Climb up the short flight of stairs outside and you can spot flowers and shrubs filling the front porch. Push open the wooden door and you will be welcomed by the reception. The warm and cosy atmosphere inside the restaurant could be felt. Blue and white checkered table cloth overlay the wooden tables. Every table is decorated with Potter's books for you to read and various character plush toys could be found as well. The waitresses were dressed in white and blue checkered costumes.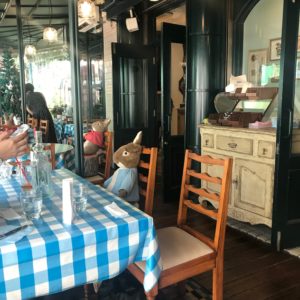 The individually-wrapped sugar cubes caught my wife's attention while we were waiting for our orders. They had flower prints and were beautifully wrapped. I thought they looked like mahjong tiles. Mahjong players will love these tiles with flowers.
The presentation of my strawberry parfait was enticing. What about the taste? The soft serve ice cream was smooth and and the parfait was well-balanced between the sweet ice cream and the slightly sour strawberries. The hot honey lemon drink that my wife had was soothing but average. The cafe served main courses too besides desserts and beverages.We did not order much as we just came from Shirohige's Cream Puff Factory and were quite full.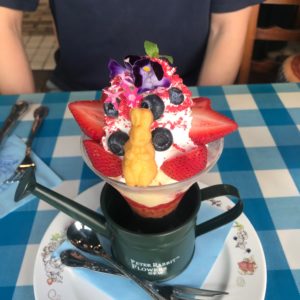 Some well-dressed middle-aged ladies were grouped at a nearby table and they were having a lot of fun taking pictures of the plush toys while giggling. I find that quite adorable. Peter Rabbit can turn middle-aged ladies into teenagers.
They sold some souvenirs in the cafe too. The souvenirs were very nice but the prices were not. We contemplated getting a small Peter Rabbit plush toy for our dog but that would set us back by at least $60.
To sum up, Peter Rabbit Garden Cafe offers a nice and cosy setting where you can lose yourself in the world of rabbits. Be prepared to pay more as it is a themed cafe. Unlike most other themed cafes with average quality food, we are cautiously optimistic that you will enjoy the food there.